Darryl Russo
Sales/General Manager
---
Darryl formally started his career in tuxedos and men's attire in 1999. However, Darryl has a long history with formal attire. Beginning with his teenage years as a DeMolay and leading up to his time serving as the Worshipful Master of DC Masonic Lodge - Hiram Takoma.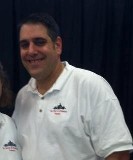 Darryl brings extensive knowledge of tuxedo styles, fabrics, weight of wools, body style fitting, colors & patterns. Darryl truly customizes each tuxedo to the individual client. Whether your looking for the ultimate formal attire in White Tie & Tails, a conservative look in Black Tie or a more casual look in suits, Darryl's expertise & knowledge can't be beat in getting you the best fit and looking your best.
Ginny Russo
Director of Marketing & Communication
---
Ginny joined M. Stein in 2009. With a BA in Corporate Communications from Elon University, Ginny brings her creativity & spark to the M. Stein team.
While Ginny's main focus is communication with our clients & vendors, she's well versed in tuxedo styles & trends.
From scheduling a fitting appointment, placing a tuxedo order, coordinating with wedding planners & brides & grooms to taking client measurements, Ginny is involved in all aspects of the day to day at M. Stein & Company Tuxedos.
Anna Shaw
Technology & Graphic Design
---
Anna joined M. Stein in 2013. Anna is studying for a degree in Graphic Design. She brings a unique edge to M. Stein. Her eye for detail and knowledge of computers & the internet is unparalleled.